Commissioners
The Johnson County Commissioners are comprised of three members, each elected county-wide. Each serve four year terms.
The Commissioners are the executive body of the county and are responsible for county buildings, lands and property; audits and authorizes claims against the county; receives bids and authorizes contracts; supervising many County departments; oversee construction and maintenance of roads and bridges as well as exercise many of the legislative powers and duties of the county.
The Board of County Commissioners as a body has a wide range of executive and administrative authority. Among the most important powers are those related to:
Auditing and authorizing claims against the county.
Receiving bids and authorizing contracts.
Controlling, maintaining and supervising county property including courthouses, jails and public offices.
Supervising construction and maintenance of roads and bridges.
Exercising appointive powers including both the selection of members to fill positions on boards, commissions, committees and appointments of certain department heads.
Planning and implementing strategies for solid waste handling as members of solid waste district boards.
Serve on the County Board of Finance with the County Treasurer.
---
County Commissioners
County Commissioner District Map
---
Requests to be added to the agenda can be mailed, faxed or emailed.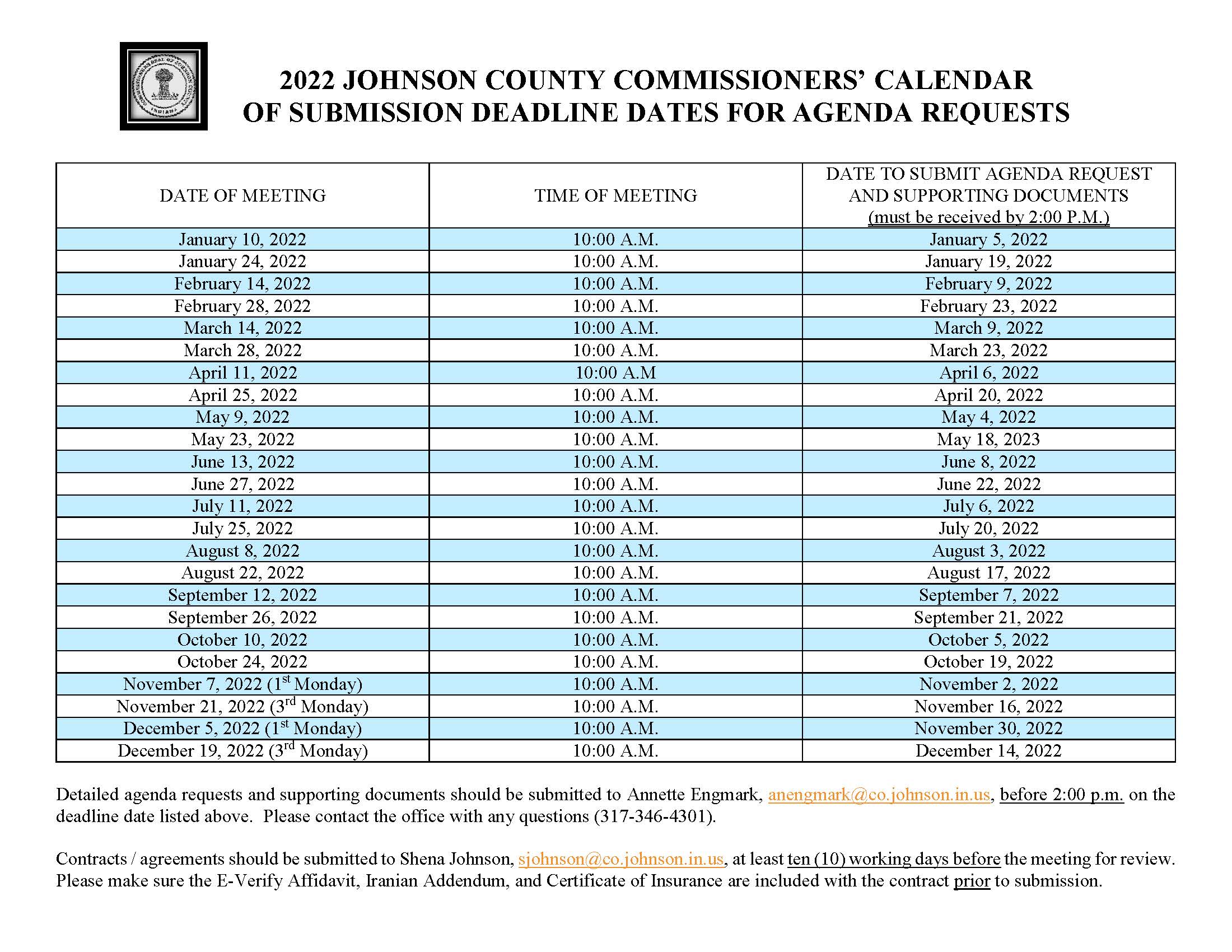 Bi-weekly meetings of the Johnson County Commissioners are listed, including the dates on which all requests to appear before the Commissioners must be in the County Commissioners Office so the agenda may be advertised according to law.
The requests are due by 2 p.m. on the specified date. If your request is not in the Commissioners Office by the specified date your request will be held until the next available Commissioners meeting. The Commissioners require that a complete written explanation of your request be submitted to the Commissioner's Office.
Any contracts/agreements that will require approval and signature by the Commissioners will need to have two originals submitted to the office. One original will be sent back with you and one original will be kept in the Auditor's Office contract drawer. You will also need to forward a copy of the contract/agreement to the County Attorney Ten (10) days before the meeting for review.
As of July 2011, the E-Verify law applies to all contracts, please make sure this law is addressed in your contract before submitting to the Board for approval. In addition to the E-Verify Certificate, the Iranian Certificate (effective date: July 2012) will also need to be attached to contracts. (please contact the office should you have any questions)
If you have a legal advertisement (Bids, RFQ, RFP) that will need to be advertised the same week as the approval please send the legal ad to the office the Friday before the meeting. This will allow for placement in the papers before their deadline which is Mondays at 10 a.m.
Contact Us
Business: (317) 346-4301

Hours:

Monday through Friday
8 a.m. - 4:30 p.m.
More Information
Find content and services related to this page.